SUPPORTING FCSO'S FIRST LADY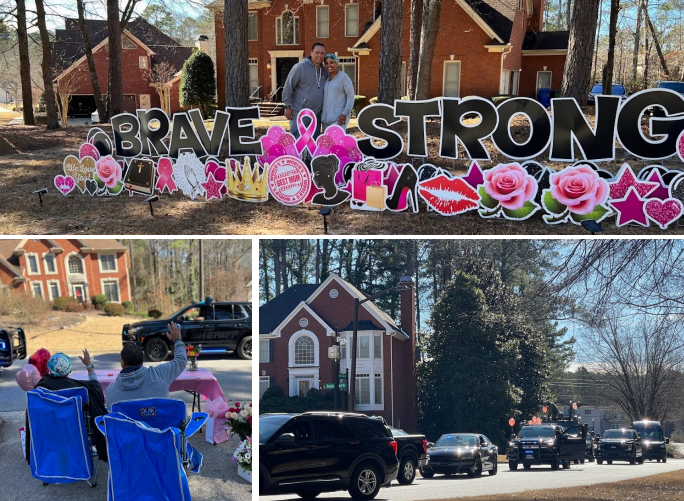 The Fulton County Sheriff's Office is showing it's support of the agency's very own First Lady during her courageous battle against breast cancer. Recently, agency members gathered for a drive-by show of support for Sheriff Labat, and Jacki Labat. We are grateful for their commitment to everyone in Fulton County, and appreciate the opportunity to show them our gratitude and care during this time of healing.
The following FCSO staff celebrated a work anniversary during the week of January 17, 2023
• Detention Officer Stephen Middleton—5 Years
(Anniversaries are generally recognized in 5-year increments)
WELCOME NEWEST FCSO EMPLOYEES!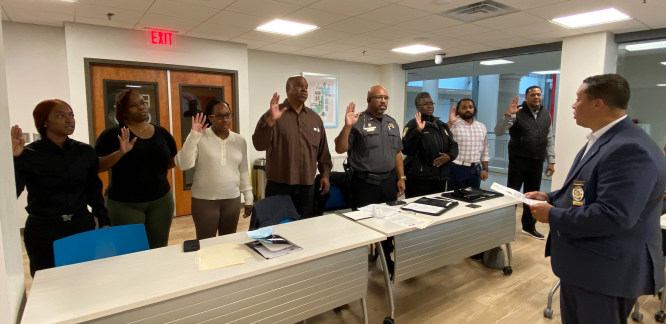 Sheriff Labat recently had the opportunity to swear in our newest deputies and detention officers. We are grateful for their commitment to protecting Fulton County, and their dedication to its citizens and visitors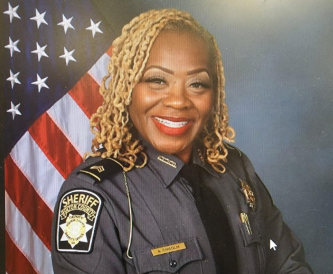 The Fulton County Sheriff's Office would like to commend Sgt. A. Chisolm for her commitment to safety, even under stressful circumstances. Over the weekend, Sgt. Chisolm requested assistance at the front entrance to the Fulton County Jail, due to a domestic dispute. The suspect in the situation fled the building, but upon being notified that the suspect had a gun, Sgt. Chisolm quickly requested additional units. Thanks to her quick thinking, the suspect was apprehended by FCSO deputies, with the assistance of APD and Fulton County PD.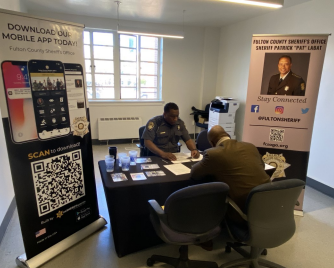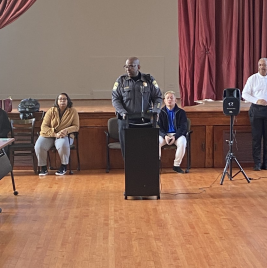 INTERNAL RECRUITMENT OPPORTUNITIES
There are several internal recruitment opportunities for sworn members of the Fulton County Sheriff's Office. Please see below for more information on each position
SWAT: The Fulton County Sheriff's Office is recruiting candidates to the Special Weapons and Tactics Team (SWAT). This team consists of highly-trained deputies, who respond to situations that are exceptional, and require the use of advanced strategies and weaponry. Interested candidates must submit a letter of interest, including their contact information, to Major Damien Butler, by close of business on February 1, 2023.
Honor Guard: The Fulton County Sheriff's Office Honor Guard is looking for a few good women and men to join them. If you are interested, please contact Major Damien Butler ([email protected]) or Major Shavonne Edwards (Shavonne.edwards@fultoncountyga.gov). The deadline to apply is February 1, 2023.
Internal Affairs Investigator: The Fulton County Sheriff's Office Internal Affairs Unit is seeking sworn personnel to join the unit as an investigator. Interested applicants must submit a letter of interest, letter of good standing, or a recommendation from a Captain or above, as well as a resume to Lt. Kristi Mayo but January 24, 2023
Property and Evidence Unit: The Fulton County Sheriff's Office Property and Evidence Unit is seeking Sworn Personnel to join the unit. The candidate must be competent to independently perform the technical duties and assume responsibility for the retrieval, storage, disposal, and maintain the chain of custody of evidentiary property submitted to the Sheriff's Office.
Interested applicants must submit a letter of interest to Sgt. Latronia Augustine.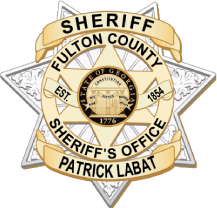 The FCSO Team Shop is now open! There are selections available for both sworn, and professional staff members. From hoodies, to tshirts, jackets, sweatpants and more; there are a variety of options available to show your FCSO pride!
The deadline to order is January 26th.
Sworn Staff Winter Store: click here
Professional Staff Winter Store: click here
COLLECTING PAJAMA DONATIONS
The Fulton County CPM (Certified Public Manager) Cohort M has partnered with JAMBOS to provide children in foster care with brand new pajamas. You are invited to help in the efforts by donating new pajamas for these children. The donation drive begins January 30th and runs through March 18th. Marked donation boxes will be available in various County buildings including the Government Center, Juvenile Court, North and South Annex Service Centers, and more.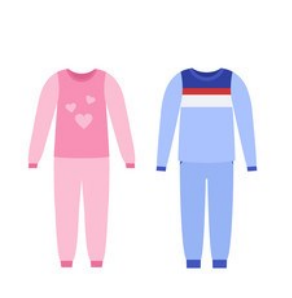 NO BAGS IN JAIL FACILITIES

A No Bag Policy is in effect within all FCSO Jail facilities. This includes: 901 Rice St., the Marietta Annex, and the South Annex in Union City. This policy is in effect until further notice.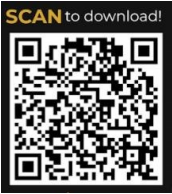 Have you downloaded the free Fulton County Sheriff's Office app yet? If not, scan the QR code to the right; it's just that easy! The FCSO app has many benefits for both employees, and the residents we protect and serve in Fulton County.
WEEKLY E-BLAST SUBMISSIONS
The FCSO weekly e-Blast is produced by FCSO Communications. Each issue highlights agency news and events, useful tips, and information from various departments as well as individual staff announcements. County notifications and updates are also featured. Submissions for the weekly eBlast may be sent to: [email protected].